Do. Beautiful and easy task management.
Do is designed to be the easiest to use powerful task manager with a clean interface. It focusses on quick task input to speed up your workflow.
Whether you use it as a simple todo list or GTD-management tool, Do can provide in both user preferences.
Download Do at the App Store!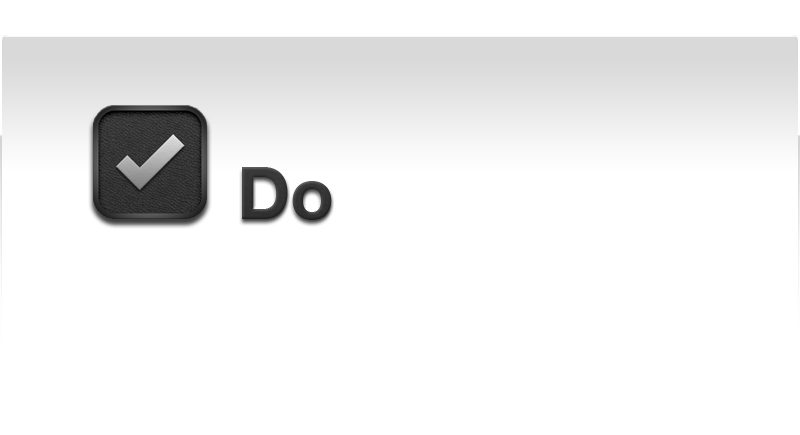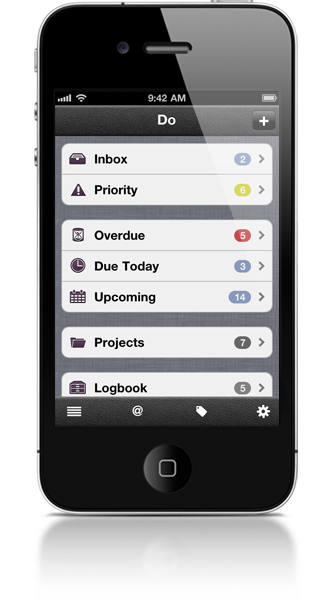 Features
✔ Quick Entry Tasks: Add tasks from anywhere in the app, with already your preferred date and priority set.
✔ Plan in Projects: Make projects and group your tasks together.
✔ Tasks Filters: Filter your tasks by context, tag, priority and due date.
✔ Alerts/Reminders: Set up an alert for every task, to get notified for an event even when the app is closed.
✔ Powered by SQLite database: Do runs on a powerful SQLite database, which gives Do stability, security and high performance.
✔ Create and assign Contexts and Tags: Create custom contexts and tags and add them to your tasks.
✔ Set Icon Badge: Set up your application icon badge and show all uncomplete tasks, high priority tasks, today's tasks and overdue tasks.
✔ Change the Upcoming time filter: Show for example only tasks for tomorrow, or next 3 days, or next 30 days or all upcoming tasks.
✔ Share your tasks via Twitter and Facebook: Share your tasks with friends and family via Twitter and Facebook.
✔ Email and SMS your Tasks: Email and SMS your tasks with the name, notes and due date already set for you.
✔ Support for landscape mode: Landscape mode available for tasks, projects, notes, contexts and tags input.
✔ Logbook: All complete tasks are kept in your Logbook and can be deleted at once.
✔ Swipe-To-Delete: Delete your projects and tasks easily by swiping it from left to right, or right to left.
✔ Supports Dropbox synchronization: You are able to share or backup your data via Dropbox. After your backup has been sent, you can restore your data after every backup. You can also use this service to keep multiple devices in sync.